You Can Find High-Quality Surgeons Right Here in Sydney
Medical tourism in an area like Manila where health protocols might not be the same as Australia's, could put patients at a higher risk of exposure to unsanitary and subpar plastic surgery techniques. Refine Cosmetic Clinic offers high-end treatments right here in Sydney!
The Risk of Rhinoplasty Overseas
Not every plastic surgery facility offers the same level of care, dedication and quality. At Refine Clinic, our customers are our number one priority, not our earnings, so we ensure every patient feels comfortable throughout their entire experience at our facility. Many facilities overseas do not guarantee customer-oriented services! In addition, travelling outside of Australia leaves you exposed to treatments or surgical practices that would not be approved by the Therapeutic Goods Administration (TGA) in Australia. Ultimately, the greatest risk of travelling to another country for rhinoplasty like Manila, Philippines is that you will receive subpar care that may affect the quality of your results.
Other risks of travelling to another country for rhinoplasty include:
Poor operating conditions
Misleading information
Greater risk of infection
Outdated surgical tools or techniques
The risk for miscommunication when discussing your goals
Inconsistencies in the cost of rhinoplasty
Complications with anaesthesia
Unlicensed or inexperienced surgeons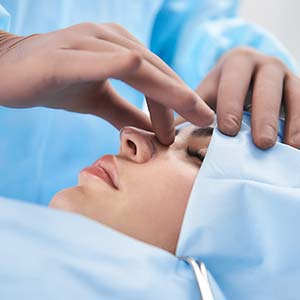 What Does Rhinoplasty Cost in Australia?
The cost of a cosmetic nose job will depend on different factors. A full plastic surgery assessment should be performed to help provide patients with an in-depth understanding of the best form of treatment and the potential costs involved with the recommended approach. At Refine Clinic, we achieve this by taking our time to assess each patient's unique case. In Manila, rhinoplasty may not be regarded with the same scrutiny.
First, a consultation with our very experienced Consultant, who is closely working with our doctors ,will be scheduled, where you can discuss the issues you have with your nose. Pictures may be taken and your consultant may take a closer look at the nose from a different angle. All this will be communicated to your surgeon to help us determine an estimate for the cost of your procedure. The approach for rhinoplasty in Manila may be completely different, and you may even be quoted a price before being seen by a doctor. We recommend being wary of any surgeon who focuses more on cost than on the details of the rhinoplasty.
Who Can Benefit From a Rhinoplasty?
Issues with the structure or appearance of the nose are something many patients go through the first half of their lives with, often developing self-esteem that stems from being bullied in their childhood. Patients who may be ideal candidates for a rhinoplasty include men and women with lifelong nasal deformities, such as a hump on the nose or a noticeably wide bridge. Additionally, problems sustained from an injury, such as a broken nose, can be reduced or corrected with a rhinoplasty or septoplasty. Be careful when considering overseas surgery; rhinoplasty in Manila, Philippines might make some issues worse!
Some of the potential improvements a rhinoplasty in Australia can offer include:
Changing the shape, size, or structure of your nose
Removing congenital imperfections, like bumps on the bridge
Alleviating disproportion to other facial features
Correcting residual damage from a broken nose
Reducing nostrils that are oversized
Shortening how far the nose protrudes
Have you been considering a nose job for many years? Does one of your younger family members struggle with bullying or trouble breathing stemming from nasal issues? If so, a rhinoplasty procedure might be an excellent way to regain personal confidence and feel better about yourself and your appearance! Contact us today to learn more about the rhinoplasty procedure in Sydney at Refine Cosmetic Clinic.
About Refine Clinic
You don't have to travel overseas to countries like Manila for rhinoplasty! Patients can receive high-quality facial plastic surgery right here in Sydney at affordable rates, thanks to payment plans and a wide range of acceptable payment options at our Bondi Junction clinic. Since 2007, Refine Cosmetic Clinic has been dedicated to providing patients in the Eastern Suburbs of Sydney with distinguished plastic surgery services. Our resident ENT Surgeon & Facial Plastic Surgeon, Dr Alan Evans, has an affinity for delicate facial procedures and revision rhinoplasty. Contact our office today at (02) 8880 9037 to schedule a complimentary initial consultation for a rhinoplasty with our very experienced Consultant, without ever leaving Australia!